Surrey Playing Fields News
Award to Martin Maybrey BEM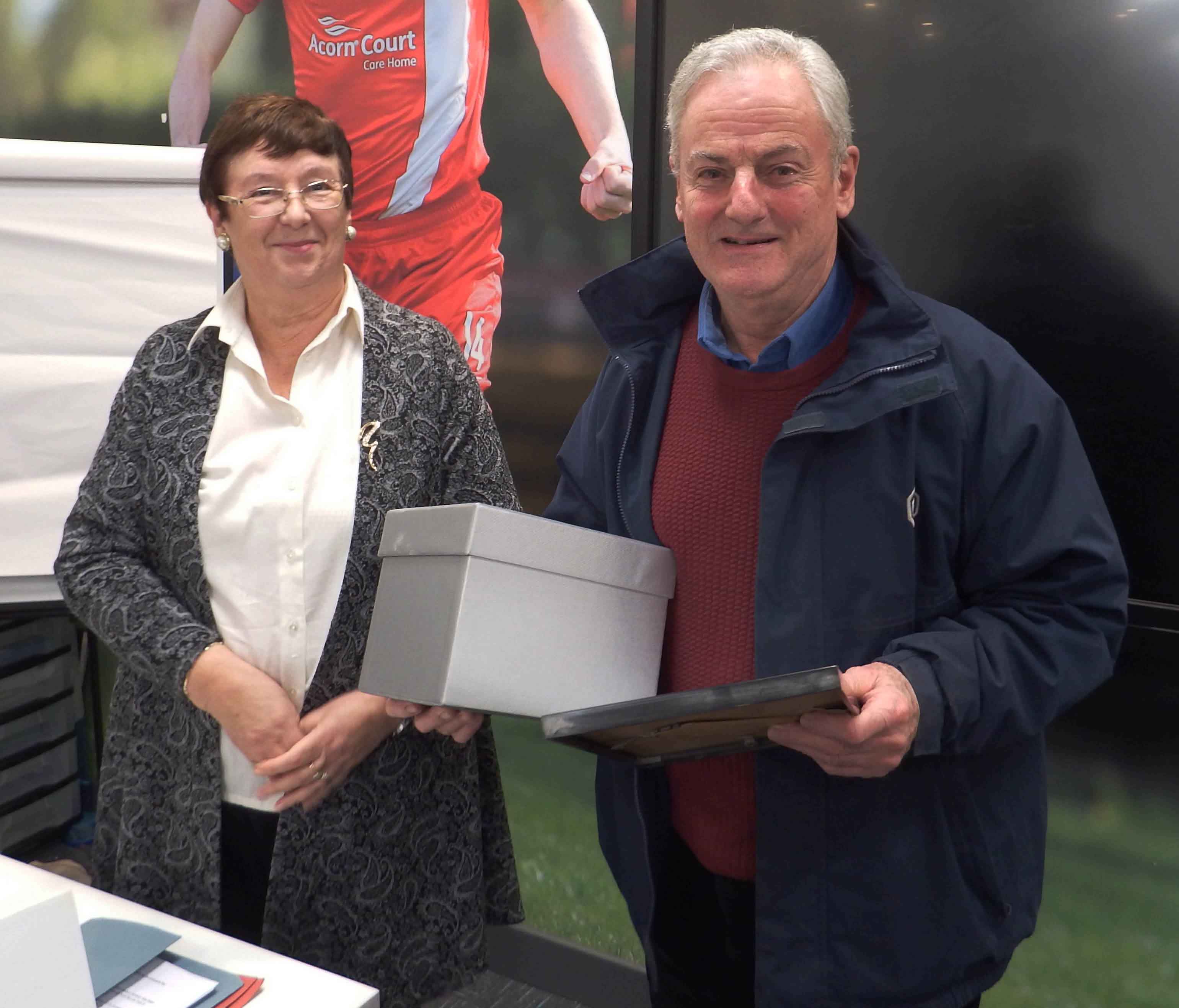 The Trustees had agreed to honour Martin by making him a Vice-President.  Unfortunately, he was unable to attend the Annual General Meeting in 2019.  The award was made at the first executive meeting held in 2020. It was made by the Hon. Secretary, Heather Dean.  He received a certificate and a tankard.
Martin has been a hard working member of Surrey Playing Fields for 40 years.  He is the development officer for East Waverley and has supported many successful projects in the area.  He is an active member of the community in Wonersh.  Amongst other activities he has been groundsman at the cricket club, treasurer, umpire and volunteer barman.  When he was awarded his BEM, the local paper ignored his many activities and wrote about "cricket club barman" awarded BEM".
There are many organisations which have benefited from his expertise and hard work.  One is the Surrey Cricket Foundation where he has worked with others to improve the quality of grounds in the County.
Thank you for all you have achieved.
Queen's Award for Voluntary Service
The voluntary organisation that promotes sport in Surrey and endeavours to safeguard the county's playing fields and recreational open spaces, the Surrey Playing Fields Association, has been awarded The Queen's Award for Voluntary Service 2017. This award was created by The Queen in 2002 to mark the occasion of her Golden Jubilee, recognising excellence in voluntary activities carried out by groups in the community. It is the MBE for volunteer groups. The Award brings with it a signed certificate from Her Majesty The Queen, an English crystal with the logo insignia and permission to use the official QAVS Logo.
The Surrey Playing Field's Chairman, Gerry Ceaser, commented 'The work that the Surrey Playing Fields does in the community was very much admired by the independent Assessment Committee, chaired by Sir Martyn Lewis CBE and we are delighted to be notified that we have been awarded The Queen's Award for Voluntary Service. It is a tremendous achievement for all of us and we hope that everyone involved, and particularly our dedicated volunteers and all the local sports clubs in the county, feel immensely proud of the recognition that this Award represents'.  The trophy was awarded on 30th November 2017.  A full report will be made in our January newsletter.
The Surrey County Playing Fields Association, as it was previously known, was formed in 1927 and this year it is celebrating its 90th anniversary serving sport in the county. It is a registered charity and, as a purely voluntary organisation, all the funds it raises goes back into community sport. Besides giving advice, it gives bursaries to young people and, assuming they meet the criteria, it provides small grants to sports clubs and low interest loans for larger projects. During the period 2000 to 2016 the grants and loans support to community sports clubs in the county totalled well over £1,700,000.
Our local development officers for Surrey Playing Fields are keen to help to protect our precious recreational sites and we support the promotion of active lifestyles and local community sport. This website – www.surreyplayingfields.co.uk - gives more information about our work and our grants and loans to help clubs, it also includes our contact details. If we can be of any assistance, please get in touch
In Memoriam
Since we started this web site and producing newsletters, several important members of our charity have died.  As an organization which is purely voluntary, it is important that we remember those who have contributed so much to our development.
They are people who have given much to other charities, sports and organisations within Surrey and the surrounding areas.  There is not room to retain information on this site.  Their obituaries are retained in the newsletters that can be down loaded from this site and from information lodged with the Surrey History Centre.
The following is a list in alphabetical order of those, where information is available, and it shows the highest position they held in the Surrey County Playing Fields Association.
     A. J. (Sandy) Brigstocke                                              Chairman
     Gerry Ceaser                                                                Chairman
     Dr Mike Clarke                                                            Area Development Officer
     Barry Hitchcock, MBE                                                County Development Officer
     Dr Robin Elsdon-Dew                                                  Director
     Bill Young                                                                     First Director
We remember you with affection and with gratitude for all you achieved.